New Books: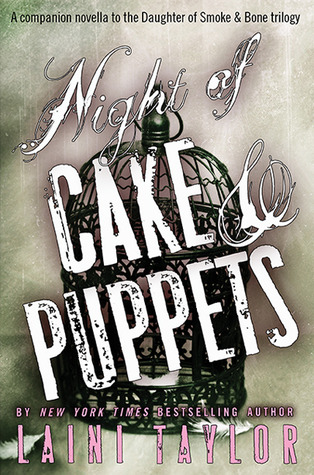 Night of Cake and Puppets (Daughter of Smoke and Bone #2.5) by Laini Taylor
Summary: In Night of Cake & Puppets, Taylor brings to life a night only hinted at in the Daughter of Smoke & Bone trilogy—the magical first date of fan-favorites Zuzana and Mik. Told in alternating perspectives, it's the perfect love story for fans of the series and new readers alike. Petite though she may be, Zuzana is not known for timidity. Her best friend, Karou, calls her "rabid fairy," her "voodoo eyes" are said to freeze blood, and even her older brother fears her wrath. But when it comes to the simple matter of talking to Mik, or "Violin Boy," her courage deserts her. Now, enough is enough. Zuzana is determined to meet him, and she has a fistful of magic and a plan. It's a wonderfully elaborate treasure hunt of a plan that will take Mik all over Prague on a cold winter's night before finally leading him to the treasure: herself! Violin Boy's not going to know what hit him.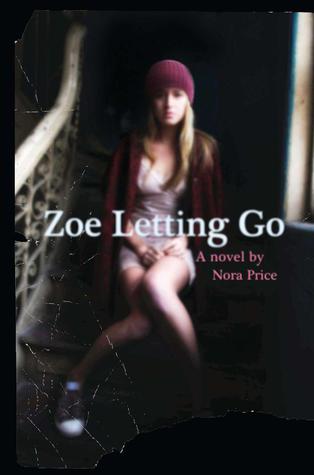 Zoe Letting Go by Nora Price
Summary: Zoe knows she doesn't belong in a hospital—so why is she in one?
Twin Birch isn't just any hospital. It's a strange mansion populated by unnerving staff and glassy-eyed patients. It's a place for girls with serious problems; skinny, spindly girls with eating disorders who have a penchant for harming themselves.
Zoe isn't like them. And she can't figure out why she was sent here. Writing letters to her best friend Elise keep her sane, grounded in the memories of her past—but mired in them, too. Elise never writes back.
Zoe is lost without her, unsure of how to navigate tenuous new friendships and bizarre rules without Elise by her side. But as her letters intertwine with journal entries chronicling her mysterious life at Twin Birch, another narrative unfolds. The hidden story of a complicated friendship; of the choices we make, the truths we tell others, and the lies we tell ourselves. The story of a friendship that has the potential to both save—and damage beyond repair. And Zoe finds she must confront the truth about her past once and for all, before she can finally let go.
Nora Price's debut young adult book is a heart-wrenching meditation on the bonds of friendship with a gripping psychological twist.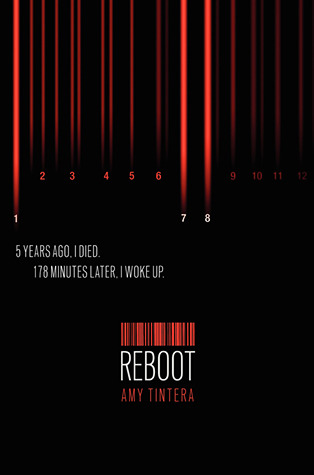 Reboot (Reboot #1) by Amy Tintera
Summary: Five years ago, Wren Connolly was shot three times in the chest. After 178 minutes she came back as a Reboot: stronger, faster, able to heal, and less emotional. The longer Reboots are dead, the less human they are when they return. Wren 178 is the deadliest Reboot in the Republic of Texas. Now seventeen years old, she serves as a soldier for HARC (Human Advancement and Repopulation Corporation).
Wren's favorite part of the job is training new Reboots, but her latest newbie is the worst she's ever seen. As a 22, Callum Reyes is practically human. His reflexes are too slow, he's always asking questions, and his ever-present smile is freaking her out. Yet there's something about him she can't ignore. When Callum refuses to follow an order, Wren is given one last chance to get him in line—or she'll have to eliminate him. Wren has never disobeyed before and knows if she does, she'll be eliminated, too. But she has also never felt as alive as she does around Callum.
The perfect soldier is done taking orders
The Shadowhunter's Codex by Cassandra Clare and Joshua Lewis
Summary: The Clave is pleased to announce the newest edition of the Nephilim's oldest and most famous training manual: the Shadowhunter's Codex. Since the thirteenth century, the Codex has been the young Shadowhunter's best friend. When you're being swarmed by demons it can be easy to forget the finer points of obscure demon languages or the fastest way to stop an attack of Raum demons. With the Codex by your side, you never have to worry.
Now in its twenty-seventh edition, the Codex covers it all: the history and the laws of our world; how to identify, interact with, and if necessary, kill that world's many colorful denizens; which end of the stele is the end you write with. No more will your attempt to fight off rogue vampires and warlocks be slowed by the need to answer endless questions from your new recruits: What is a Pyxis? Why don't we use guns? If I can't see a warlock's mark, is there a polite way to ask him where it is? Where do we get all our holy water? Geography, History, Magic, and Zoology textbook all rolled into one, the Codex is here to help new Shadowhunters navigate the beautiful, often brutal world that we inhabit.
Do not let it be said that the Clave is outdated or, as the younger Shadowhunters say, "uncool": this new edition of the Codex will be available not only in the usual magically-sealed demonskin binding, but also in a smart, modern edition using all of today's most exciting printing techniques, including such new features as a sturdy clothbound cover, a protective dust jacket, and information about title, author, publisher, and so on conveniently available right on the cover. You'll be pleased to know that it fits neatly into most satchels, and unlike previous editions, it rarely sets off alarm wards.
The old woodcuts and engravings have been replaced as well: instead, you'll find lavish modern illustrations by some of the brightest luminaries of the fantastic. Creatures, weapons, people, and places have been carefully and accurately rendered by the likes of Rebecca Guay, Charles Vess, Jim Nelson, Theo Black, Elisabeth Alba, and Cassandra Jean. Chapters are beautifully introduced by the drawings of Michael Kaluta, and along with our condensation of the classic 2,450-page tome, A History of the Nephilim, you will find a selection of the best of the lovely illustrations of that volume by John Dollar.
This edition of the Codex will be available in Institute libraries and what mundanes sometimes call "book stores" in October 2013
The Sweetest Dark (The Sweetest Dark #1) by Shana Abé
Summary: The Sweetest Dark is filled with thrilling romance, exciting adventure, and ancient magic. Shana Abé brilliantly captures the drama of post-Victorian England, while unfolding a passionate love story that defies time.
"With every fiber of my being, I yearned to be normal. To glide through my days at Iverson without incident. But I'd have to face the fact that my life was about to unfold in a very, very different way than I'd ever envisioned. Normal would become forever out of reach."
Lora Jones has always known that she's different. On the outside, she appears to be an ordinary sixteen-year-old girl. Yet Lora's been keeping a heartful of secrets: She hears songs that no one else can hear, dreams vividly of smoke and flight, and lives with a mysterious voice inside her that insists she's far more than what she seems.
England, 1915. Raised in an orphanage in a rough corner of London, Lora quickly learns to hide her unique abilities and avoid attention. Then, much to her surprise, she is selected as the new charity student at Iverson, an elite boarding school on England's southern coast. Iverson's eerie, gothic castle is like nothing Lora has ever seen. And the two boys she meets there will open her eyes and forever change her destiny.
Jesse is the school's groundskeeper—a beautiful boy who recognizes Lora for who and what she truly is. Armand is a darkly handsome and arrogant aristocrat who harbors a few closely guarded secrets of his own. Both hold the answers to her past. One is the key to her future. And both will aim to win her heart. As danger descends upon Iverson, Lora must harness the powers she's only just begun to understand, or else lose everything she dearly loves.
Filled with lush atmosphere, thrilling romance, and ancient magic, The Sweetest Dark brilliantly captures a rich historical era while unfolding an enchanting love story that defies time.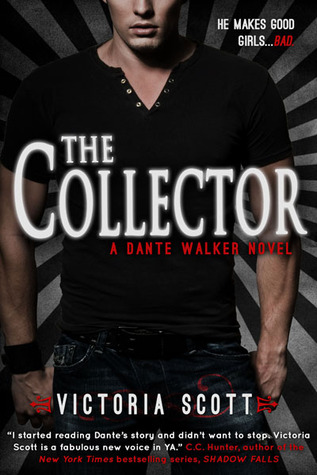 The Collector (Dante Walker #1) by Victoria Scott
Summary: He makes good girls...bad.
Dante Walker is flippin' awesome, and he knows it. His good looks, killer charm, and stellar confidence have made him one of hell's best—a soul collector. His job is simple: weed through humanity and label those round rears with a big red good or bad stamp. Old Saint Nick gets the good guys, and he gets the fun ones. Bag-and-tag.
Sealing souls is nothing personal. Dante's an equal-opportunity collector and doesn't want it any other way. But he'll have to adjust, because Boss Man has given him a new assignment:
Collect Charlie Cooper's soul within ten days.
Dante doesn't know why Boss Man wants Charlie, nor does he care. This assignment means only one thing to him, and that's a permanent ticket out of hell. But after Dante meets the quirky Nerd Alert chick he's come to collect, he realizes this assignment will test his abilities as a collector…and uncover emotions deeply buried.
Dream Factory by Brad Barkley and Heather Helper
Summary: When the character actors at Disney World go on strike, the teens hired as replacements learn that it isn't exactly the Happiest Place on Earth. Ella gets to be Cinderella, simply because the shoe fits. It should be a dream come true, but Ella no longer believes in dreams. Luke is a fur character, Dale the chipmunk. Chip is played by his girlfriend, Cassie, who is perfect in every way. Why, then, does Luke find himself more drawn to imperfect things like the theme park's Phantom? A team-building scavenger hunt brings Luke and Ella together. As they uncover the Magic Kingdom's treasures, they discover an undeniable magic between them.
Read: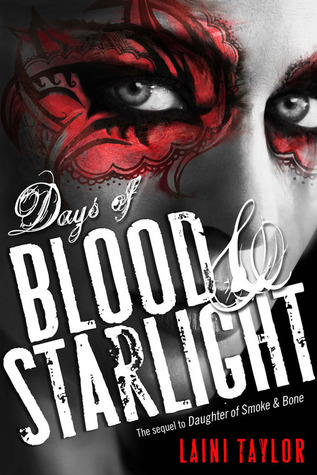 Days of Blood and Starlight (Daughter of Smoke and Bone #2) by Laini Taylor
Summary: Once upon a time, an angel and a devil fell in love and dared to imagine a world free of bloodshed and war.
Art student and monster's apprentice Karou finally has the answers she has always sought. She knows who she is—and what she is. But with this knowledge comes another truth she would give anything to undo: She loved the enemy and he betrayed her, and a world suffered for it.
In this stunning sequel to the highly acclaimed Daughter of Smoke & Bone, Karou must decide how far she'll go to avenge her people. Filled with heartbreak and beauty, secrets and impossible choices, Days of Blood & Starlight finds Karou and Akiva on opposing sides as an age-old war stirs back to life.
While Karou and her allies build a monstrous army in a land of dust and starlight, Akiva wages a different sort of battle: a battle for redemption. For hope.
But can any hope be salvaged from the ashes of their broken dream?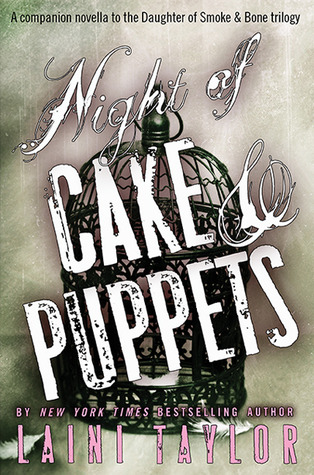 Night of Cake and Puppets (Daughter of Smoke and Bone #2.5) by Laini Taylor
Summary above under New Books
Review to come!!
City of Fallen Angels (The Mortal Instruments #4) by Cassandra Clare
Summary:
The Mortal War is over, and sixteen-year-old Clary Fray is back home in New York, excited about all the possibilities before her. She's training to become a Shadowhunter and to use her unique power. Her mother is getting married to the love of her life. Downworlders and Shadowhunters are at peace at last. And—most importantly of all—she can finally call Jace her boyfriend.
But nothing comes without a price.
Someone is murdering Shadowhunters, provoking tensions between Downworlders and Shadowhunters that could lead to a second, bloody war. Clary's best friend, Simon, can't help her—his mother just found out that he's a vampire, and now he's homeless. When Jace begins to pull away from her without explaining why, Clary is forced to delve into the heart of a mystery whose solution reveals her worst nightmare: she herself has set in motion a terrible chain of events that could lead to her losing everything she loves. Even Jace.
The stakes are higher than ever in the #1 New York Times bestselling fourth installment of the Mortal Instruments series
Review to come!
Currently Reading:
Beautiful Chaos (Caster Chronicles #3) by Kami Garcia and Margaret Stohl
Summary: Ethan Wate thought he was getting used to the strange, impossible events happening in Gatlin, his small Southern town. But now that Ethan and Lena have returned home from the Great Barrier, strange and impossible have taken on new meanings. Swarms of locusts, record-breaking heat, and devastating storms ravage Gatlin as Ethan and Lena struggle to understand the impact of Lena's Claiming. Even Lena's family of powerful Supernaturals is affected -- and their abilities begin to dangerously misfire. As time passes, one question becomes clear: What -- or who -- will need to be sacrificed to save Gatlin?
For Ethan, the chaos is a frightening but welcome distraction. He's being haunted in his dreams again, but this time it's not Lena -- and the mysterious figure is following him out of his dreams and into his everyday life. Worse, Ethan is gradually losing pieces of himself -- forgetting names, phone numbers, even memories. He doesn't know why, and he's afraid to ask.
Sometimes there's no going back. And this time there won't be a happy ending.
Most Likely to Read Next:
Reached (Matched #3) by Ally Condie
Summary: Conclusion to the New York Times Bestselling Matched Trilogy!
Cassia's journey began with an error, a momentary glitch in the otherwise perfect façade of the Society. After crossing canyons to break free, she waits, silk and paper smuggled against her skin, ready for the final chapter.
One young woman has raged against those who threaten to keep away what matters most—family, love, choice. Her quiet revolution is about to explode into full-scale rebellion. With exquisite prose, the emotionally gripping conclusion to the international–bestselling Matched trilogy returns Cassia, Ky, and Xander to the Society to save the one thing they have been denied for so long, the power to choose